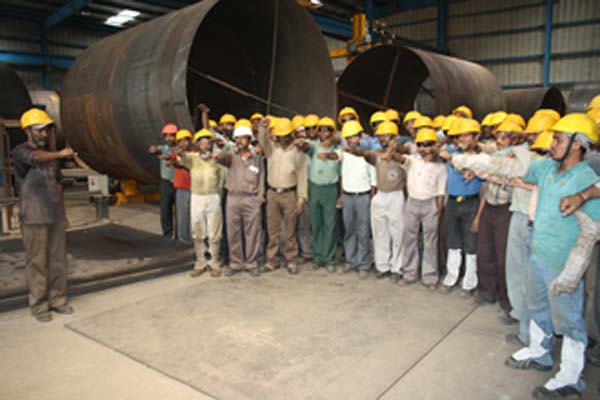 On recruitment each employee undergoes Induction Training Program to carry out the assigned job safely. The training is imparted in a language in which the personnel comfortable. Each individual is trained on:
Potential hazards to which they may be exposed at their work place.
Measures available for prevention recurrence and elimination at these hazards.
The topics during training are covered at the minimum:
Education about hazardous jobs and precautions.
Emergency and evacuation plan.
HSE requirements.
Fire fighting and first aid
Use of PPE's
All work assignments include specific attention to health, safety and environment concerns. Follow – up monitoring is donw in order to prevent accidents. In safety induction training programme we use to arrange training for all new employees. In this programme we provide knowledge about the risk and uncertainties that may occur in our day to day activities. In this programme we try to minimize the risk involved in each job. We give them knowledge about the danger signboards and barricade areas. When the employees learn the complete fundamentals of safety we allow them to our soft floor or our other mechanical jobs.
In safety induction training we basically emphasize on the following points:
Electrical safety
Fire safety
Safety at height jobs
Safety with other jobs
Electrical safety:
We always ask the employees not to operate any electrical equipment, only electricians and authorized person operate those. When any danger signboard is shown, the employees are restricted to enter towards those sites. We also advice our employees to not to touch any electrical cable without any permission. It is also advised to them to always report any shortfalls in our electrical connections so that proper safe work can be carried out.
Fire Safety:
We train the employees in how to minimize the risk of fire. We always advice them to make the place wet or cool before doing any jobs involving fire. For example we put wet clothes on cylinders at the time of gas cutting and also use the flash back arrestor at the time of gas cutting.
Safety at Height:
We train our employees about the safety precautions which are to be taken at the time of doing jobs at heights more than 2 meters. We tell them about the full body harness safety belts and other things.
Safety at other mechanical jobs:
In all mechanical jobs we use PPE's to ensure minimum risk and hazards. We train/ advise the employees to adopt the use of goggles, safety shoes, leg guards, hand gloves .Other PPE's are allotted for each mechanical jobs such as welding, grinding and gas cutting etc.