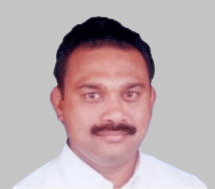 Ashis Palit, a graduate in commerce started his carreer in 1985 as site in charge of structural fabrication and erection site at Captive Power Plant of National Aluminium Company (NALCO), Angul. He further handled construction sites for equipment erection, Aluminium busbar work successfully at NALCO Smelter Plant Project.
He was Resident Manager at Bharat Aluminium Company (BALCO), Korba  Aluminium Smelter site,  where Indfab executed jobs for Pot shell and Pot Super Structure , Aluminium  busbar and equipment erection. He has successfully handled Company's construction sites at Vedanta's  Smelter Project at Jharsuguda. Under his guidance our company has executed 304 Pot Shells, 304 Pot Super Structures, 304 Almunium busbars, 16 nos PTMs, FTAs at Vedanta Jahrsuguda  Phase – I  Project site. 
Now in Vedanta Jahrsuguda  Phase – II  Project site our company is executing 336 Pots , 18 nos. PTM, 9 nos. FTA and  fabrication and erection of  600 sets of Pot shell, Pot Super structure and Anode Beams under his guidance.
He directs the project and over sees company's marketing and execution of Aluminium projects.
Ashis Palit  is the Managing Director of Group Company "Garden Palace Hotels Resorts".
This email address is being protected from spambots. You need JavaScript enabled to view it.